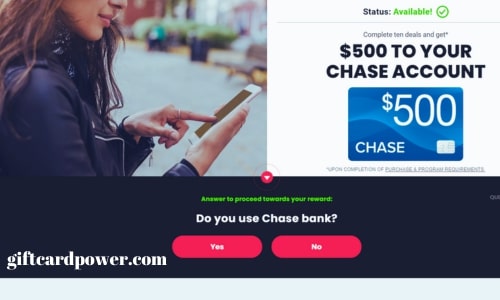 Get $500 for your Chase Account
Chase offers a $500 Chase Account bonus for opening a checking and savings account. This is one of the best bank registration bonuses available! I recommend you do this if you are eligible.

Can I open more than one Chase Account to receive multiple bonuses?
Opening multiple Chase accounts to receive multiple bonuses can be possible, but it's essential to understand the terms and conditions set by Chase for their promotions. Chase, like many other banks, has specific rules and restrictions in place to prevent abuse of their bonus offers.
Here are some key points to consider:
Account Eligibility: Chase often has requirements for new Chase Account, such as maintaining a minimum balance, making a certain number of direct deposits, or keeping the account open for a specified period. You need to meet these requirements to qualify for the bonus.
Bonus Limitations: Chase typically limits the number of bonuses you can receive within a certain time frame. For example, they may restrict you from receiving the same type of bonus within 24 months of receiving a previous one. Make sure to check the terms and conditions of each offer to see if there are any limitations on how often you can receive bonuses.
Credit Score and ChexSystems: Opening multiple accounts in a short period can impact your credit score and raise red flags with ChexSystems, which is a consumer reporting agency that tracks banking and checking account activity. Excessive account openings or closures can affect your ability to open new accounts in the future.
Risk of Account Closure: If Chase suspects that you are opening multiple accounts solely for the purpose of receiving bonuses and not using the accounts as intended, they may close your accounts and forfeit any bonuses earned.
Legal and Ethical Considerations: It's crucial to act ethically and within the bounds of the law. Deliberately trying to manipulate the system to receive bonuses can have legal consequences and damage your financial reputation.
Before attempting to open multiple Chase accounts for bonuses, carefully review the terms and conditions of each offer and consider the potential risks and consequences. If you have questions or concerns, it's a good idea to reach out to Chase customer service for clarification.
Additionally, you may want to consult with a financial advisor to ensure that your actions align with your overall financial goals and strategies.
Chase total checking account:
Have monthly direct deposits totaling $500Chase Account  or more made into this account; EITHER
Maintain a balance at the beginning of each day of $1,500 or more in your checking account; EITHER
Maintain an average beginning-day balance of $5,000 or more in any combination of this account and qualifying Chase savings checking and other linked balances,
Chase Savings Account:
A balance at the beginning of each day of $300 or more in this account; EITHER
Have $25 or more in total automatic savings or other recurring automatic transfers
from your personal Chase checking account or Chase Liquid Card (available only through chase.com or Chase Mobile); EITHER
Link a Chase College checking account to this account for overdraft protection; is
has an account holder under the age of 18; is
Linked to Chase Better Banking® Checking, Chase Premier Checking, Chase Premier Plus Checking, Chase Sapphire Checking or Chase Private Client Checking accounts.
Terms and Conditions
Here's the fine print. I've covered all the relevant things you need to know in this post, but here's Chase's legal language if he's interested:
1. The checking account offer is not available to Chase checking account customers.
2. The savings offer is not available to existing Chase Account savings customers.
3. Both offers are not available to those whose accounts have been closed within 90 days or closed with a negative balance.
3. To receive the $200 checking bonus: 1) Open a new Chase Total Checking account, which is subject to approval; AND 2) Have your direct deposit made to this account within 90 days of account opening.
Your direct deposit must be an electronic deposit of your paycheck, pension, or government benefits (such as Social Security) from your employer or the government. Person-to-person payments (such as Chase Quickpay with Zelle) are not considered direct deposits.
4. Once you complete all the above verification requirements, we will deposit the bonus into your new account within 10 working days.
To receive the $200 savings bonus: 1) Open a new Chase Savings account, subject to approval; 2) make new deposits totaling $15,000 or more into the new savings account within 20 business days of opening the account; and 3) maintain a balance of at least $15,000 for 90 days from the date of submission.
5. Once you have completed all of the savings requirements above, we will deposit the bonus into your new  Chase Account within 10 business days.